Hello friends! It's been a while, like usual. You know I'm glad I have this online journal to help me keep track of where I am when and how I am feeling about it. Tonight....I'm coming to you from Memphis Tennessee. Yep - we're back! I honestly can't explain to you how it works, why,when, and who decides this. But I'll tell you that its not me and it's not my husband. We are just rolling with the punches best we can. If you're new and catching up with me maybe start waaay back here, here, or here.
Today I'm linking up with Jenna like most Thursdays... who also just opened a new shop [Neon & Nude] check it out!
The Last Thing I ...
ate - Mexican with my man. Last night was the first time I've seen him in TWO weeks. If you ask me, that's two weeks to long for these newlyweds.
cried about - I was at my parents the last two weeks and our dog Rudy of 14 years is having some neck problems. He apparently had an episode of some sort and was not eating/drinking for a few days. I cried with him thinking about all the great times we've had together and that he was gonna be leaving us soon. I love this pup and am not looking forward to the day we have to say goodbye. Fortunately he is doing much better but he made me realize how much I love him.
daydreamed - that Brandon and I went out on the lake fishing for the whole day. Hopefully we can do this when he has a few days off in July.
cooked - um, I seriously can't remember. I did pick up some cookie dough from the store so maybe I'll bake some cookies this week.
sewed - I have had a few orders for the new camera straps. Since I'm only visiting my guy until Monday - I didn't pack ANY crafting stuff. I feel lost with out it to be honest but that's okay. I'll get over it. Plus I really feel like I have no clue which direction my shop is taking so it's better to have some time away to think/brainstorm/plan.
sang along to - Sunday, my sister, two brothers,two of their friends, and I went to the Brothers of the Sun Tour featuring Tim McDreamy McGraw and Kenny Chesney. I love country music and good looking cowboys. The only thing that could have made it better is if my cowboy was with me. Also Grace Potter opened for them and was awesome her album came out Tuesday - must buy! I love up and coming artists..it reminds me of my guy fighting to make his dream come true. Which also reminds me of Dave Owens and that you should go check him out here and his sweet amazing supportive wife here.
laughed about - ecards. I love them and they are true, mostly.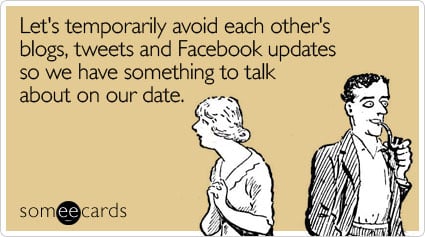 Alyssa ... I'm talking to you.
needed - was the weekend away with my family. Thursday I met with two of my close friends from college for dinner and to catch up. Then Friday - Monday I was in Kansas City. We went to the pool, caught a movie, rocked out at the concert, and then did some shopping. I really enjoyed a weekend away from the crazy baseball life. Mostly I enjoyed the pool. I love the pool.
thought about social media - is that it's AWESOME. I seriously have been counting down for a wedding of someone I've gotten to know through Instagram. I know normally this would be creepy but it's not and I will totally meet them someday even if it's when I crash the wedding on the 23rd. If I haven't told you before I LOVE Instagram [larnlevydickson]

and the Holden family.
did spur of the moment - pulled off the road on my four hour drive to watch the sunset. This photo has a filter, but it doesn't matter this is how gorgeous it looked to me! I love that sometimes I stop to enjoy things like this.
don't want to think about - leaving my man. Two weeks away was way too long not seeing each other. I can't even think that we are going to do this again from June 18 - July 4. Must get in lots of hugs and kisses now! But it does give us the opportunity for texts like this. It also reminds me of the beginning days of our relationship which is kinda cool. Not cool enough to make me forget I have to go to bed and wake up alone. Oh well - thankful for technology.
did that made myself laugh - I'm silly what can I say. This is truly how I feel. Do you agree?
YOU did to make me happy - was to stop by my blog. Thank you and if no one has told you today you are awesome and can do whatever you put your mind to! Fight for you dreams and never stop.